What are the different types of percolators bongs
Perc bongs come in all shapes and sizes, but there are a few standard ones you'll find in most smoke shops. Some bongs may have multiple percs that work together to provide an enhanced smoking experience. You can also find detached ash catchers that feature various percs so you can upgrade a bong you already own.

Tree
Tree percolators are probably the easiest to recognize, made up of multiple rods connected at the top which resemble tree limbs. Air comes up from a central tube and down through the rods which are slitted at the bottom, diffusing bubbles into the bong.
With more rods on your perc, you'll experience maximum filtration, though a tree percolator can be a bit delicate compared to other types. It's important to always shop from retailers who provide thick borosilicate glass bongs that won't break easily.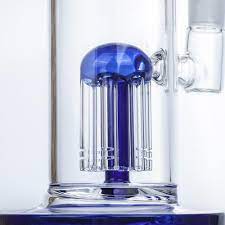 Inline
An inline percolator is simply a horizontal tube with several slits in them. As you probably guessed by now, more slits equals more percolation within your bong. These percs are typically located in the base of the bong and complement other types of percs, such as a showerhead.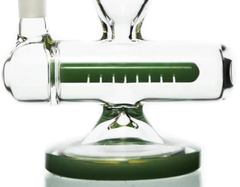 Showerhead
Shaped like a showerhead, these bad boys are a popular choice among percolator lovers. Slits or holes are placed at the bottom of a vertical tube that flares out, pulling smoke into a separate diffusion chamber above the water in the base. Usually a showerhead perc will be located in the neck of the bong, especially in beaker-shaped pieces.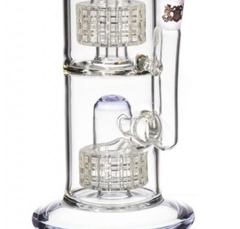 Diffused downstem
If you want to spice up your favorite bong, a diffused downstem might be the answer. Rather than a straight glass downstem, a diffused downstem has several slits at the bottom that improve air flow into the base of your piece. Be sure to purchase the correct size downstem for your specific bong.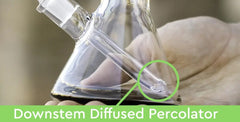 Honeycomb
Honeycomb percolators are arguably among the most sought after percs — and for good reason. These percs feature flat discs, usually more than one, studded with a bunch of tiny holes (hence the name). They're typically found in straight tube bongs stacked directly above one another to create additional chambers for the smoke to pass through.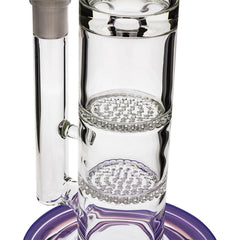 Fritted disc
Even more powerful than the honeycomb, fritted disc percs are made up of coarse glass particles bonded together to create what seems like a million itty-bitty holes — those with trypophobia beware. They can be formed into a disc or ball shape, among others. These percs are best for the adventurous smoker who seeks the perfect bong rip, even if that means constant cleaning.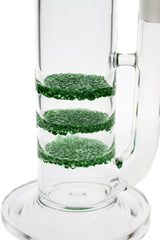 Turbine
Commonly paired with a honeycomb due to it's disc shape, turbine percs are slabs of glass that feature slits around the edges. When you inhale, it creates a visually appealing whirlpool as water and bubbles are pulled through it. Basically, these percs diffuse your hit and also look super dope.